French investigators reveal they are looking into a family dispute after the murder of a British man and three others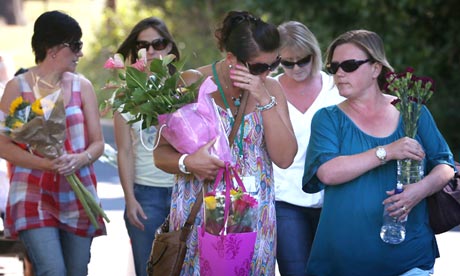 French investigators say the murder of a British man and three others on the edge of a secluded Alpine forest bears the hallmarks of a professional assassination as they revealed they were investigating allegations there had been a money dispute in the family.
The increasing belief among investigators that Saad al-Hilli was targeted means attention will focus on his private and professional life as they search for clues to any motive for the massacre.
French investigators said one line of inquiry was an alleged family dispute, said to have involved a wrangle over property. French officials stressed this was one line of inquiry among others.
A French gendarme was due to fly to London on Friday afternoon to coordinate the inquiry with the British authorities.
The dead man's brother Zaid al-Hilli was reported by AFP to have gone to a police station.
French media reported that the brother had contacted British police and denied any involvement. French investigators have stressed that even if there was a family dispute, it is a considerable leap to link it to the cold-blooded killings of three adults and the violent beating of a young girl at a mountain beauty spot.
"We received information from the British authorities about a money dispute between two brothers of this family," state prosecutor Eric Maillaud told Reuters. "It's an interesting line of investigation, but one among many."
Saad al-Hilli, died from a bullet to the head along with his wife, his 77-year-old mother-in-law and a French cyclist, all gunned down near Lake Annecy on the Swiss border.
Eric Maillaud, the French public prosecutor, told the Guardian detectives from France and the UK were cooperating "100%". He added that the relationship between Saad al-Hilli, a 50-year-old aerospace engineer, and his brother and rumours of a dispute over money and a family inheritance were a line of inquiry "for the moment".
Maillaud said the brother had not been interviewed formally by the British police.
Maillaud said police had found a further 10 bullet casings following the removal of the al-Hilli family's BMW estate car from the isolated car park at the end of the narrow and winding Route de la Combe d'Ire, bringing the total number of casings to 25 and suggesting there may have been more than one weapon or gunman.
"This bears of the hallmarks of a professional assassination and there was an absolute determination to kill shown by the bullets in the head of the victims, and the savagery of the attack on the elder girl. It does seem like an ambush, but we cannot be sure at this stage that it was a professional assassination.
"Was the family targeted? Honestly we don't know. The hypothesis (of a family row) has come out strong because there appears to have been some legal action between the brothers. It has risen to the top, but it's still just one line of inquiry because there is also the profession of the victim and even the fact that he was born in Iraq, that might be important."
He added: "All we know for now is that a human drama has happened and we have to find out why as quickly as possible."
The bodies of Saad al-Hilli, his wife Iqbal, 47, and a 77-year-old woman believed to be Mrs al-Hilli's mother, as well as the French cyclist Sylvain Mollier, a local father-of-three, were removed from the scene on Thursday afternoon. The al-Hillis' two daughters, Zainab, seven, who was shot in the shoulder and suffered devastating head injuries, and four-year-old Zeena who hid terrified in the rear footwell under the bodies of her dead mother and grandmother for eight hours before being found, were still both in hospital.
The public prosecutor said investigators were anxious to speak to the elder girl who was "a key witness" but had to be bound by doctors' advice. He said her condition was improving but she was still unable to speak.
Zeena has been interviewed by detectives in the presence of an English-speaking representative from the British Embassy and will be questioned "gently" again on Friday.
"Physically she is very well; she is being protected by a gendarme and has a nurse with her. She has been told her family is dead. I don't know how you tell a four-year-old that she will never see her family again, but she knows," Maillout said.
"She is only four so what she has been able to tell us is more about the ambiance. She has spoken of hearing noises and cries and told us she was afraid so she hid. Our priority now is to get this poor little girl reunited with one of her relatives and back with family members. I understand there are members of the family ready to come to France to get her.
"The elder girl is not in a state to speak and we will have to wait for a go-ahead from the doctors before talking to her. She is a key witness for us."
Anda baru saja membaca artikel yang berkategori News dengan judul French Alps shootings have 'hallmarks of a professional assassination'. Anda bisa bookmark halaman ini dengan URL http://portalsolo.blogspot.com/2012/08/french-alps-shootings-have-of.html. Terima kasih!
Ditulis oleh:
taufik hidayat
- Wednesday, August 15, 2012