• Worcestershire 60 & 209; Warwickshire 471-8 dec

• Defeat leaves Worcestershire on brink of relegation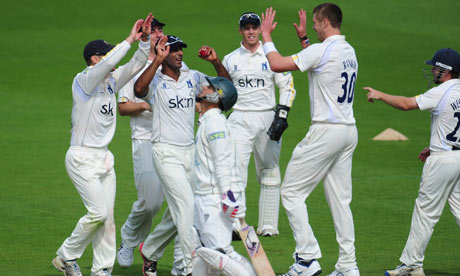 Warwickshire
have sealed their seventh County Championship title, and their first in eight years, with a crushing innings win that opened the relegation trapdoor for
Worcestershire
.
Victory – delivered at 1.35pm when Chris Wright splattered the stumps of last man Alan Richardson – provides succour for their hurt of 12 months ago when they began the final day of the 2011 season needing to dismiss seven batsmen of a relegated and seemingly dispirited Hampshire side to secure the pennant, and ended it in misery, as Lancashire lapped up the bubbly following success in Taunton. It cannot have been a pleasant bus journey home.
"I wasn't suicidal but it was pretty desperate," recalls Warwickshire's director of cricket, Ashley Giles. "You wrack your mind in that situation to think about what you could have done that was slightly different to get the right outcome.
"Everyone in the team felt like that, which is why we've driven so hard since. My message at the start of this game was pretty clear, that there was an opportunity to go out and get it and not wait for it to pass by. Championships don't come very often.
"There has been a real combined effort from everyone from when we first got together in November last year, talking about how we could go one step further. I was reminded by someone during this match that on the final day last year I said to the team: 'How do we ensure that this doesn't happen again? We stop it happening by winning with one game to go next time.'"
That the same personnel have delivered has been thanks to their strength in depth. When in early season seamers Chris Woakes and Boyd Rankin were out through injury, up stepped Keith Barker, the former Blackburn and Rochdale footballer, and Chris Wright, whose talent remained unfulfilled during spells at Middlesex and Essex.
It is fair to say the pair were peripheral figures last season but this time they have been anything but, so it was fitting that their finest hour – or two hours and 13 minutes to the pedants – came on the first morning here, when they demolished the hosts for 60.
Bowling in tandem unbroken throughout the first session, they enjoyed an even share of the 10 wickets, both breaking through the 50-barrier in Division One in the process.
It was equally fitting that Wright, charging in from the New Road end after lunch, should produce two champagne moments to place his team on the brink. Six minutes into the third afternoon, Chris Russell pushed tentatively and glanced back to see his leg-stump cartwheeling, and when debutant Nick Harrison had his off-stump uprooted in Wright's next over the wicket requirement was reduced to one.
Jim Troughton's team had claimed five of the eight required on another pleasant morning as regular breakthroughs exposed the tail, alongside Moeen Ali, who like Richardson previously served on the staff at Edgbaston.
Requiring a further 311 runs just to make the Division One leaders bat again, Worcestershire resumed the third day on 100 for two but had lost captain Daryl Mitchell and the Netherlands international Alexei Kervezee in just over half an hour of play.
Mitchell was unfortunate to witness the ball roll back into his stumps from a defensive jab while Kervezee was pinned lbw by an inswinger, the double increasing the impressive left-armer Barker's match haul to eight.
His new-ball partner Wright castled Joe Leach a quarter of an hour later and any doubts as to whether Rankin was champing at the bit were dispelled when he was belatedly introduced to the attack for his first and Warwickshire's 85th over of the contest, his pace and bounce accounting for youngsters Brett D'Oliveira and Ben Cox in quick succession.
For Worcestershire, the drop appears inevitable and will be confirmed if Surrey defeat Nottinghamshire.
Anda baru saja membaca artikel yang berkategori sports dengan judul Warwickshire demolish Worcestershire to win County Championship title. Anda bisa bookmark halaman ini dengan URL http://portalsolo.blogspot.com/2012/08/warwickshire-demolish-worcestershire-to.html. Terima kasih!
Ditulis oleh:
taufik hidayat
- Friday, August 31, 2012