Canada closes Tehran embassy and expels Iranian diplomats over support for Syria, nuclear plans and alleged rights abuses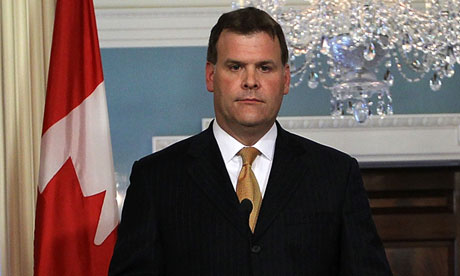 Canada has closed its embassy in Tehran and ordered the expulsion of Iranian diplomats from Ottawa.
Canada's foreign affairs minister, John Baird, issued a statement citingIran's support for Bashar al-Assad's regime in Syria, its disputed nuclear programme and continued human rights violations as reasons behind his country's move. He said the Canadian government perceived Iran to be "the most significant threat to global peace and security in the world today".
"Canada has closed its embassy in Iran, effective immediately, and declared personae non gratae all remaining Iranian diplomats in Canada," Baird said.
All Canadian diplomatic staff had left Iran and Iranian diplomats in Ottawa had five days to leave the country.
"The Iranian regime is providing increasing military assistance to the Assad regime; it refuses to comply with UN resolutions pertaining to its nuclear programme; it routinely threatens the existence of Israel and engages in racist anti-Semitic rhetoric and incitement to genocide," Baird said in the statement published on Canada's government website for foreign affairs and international trade.
Canada is an outspoken critic of Iran's human rights record and has actively pursued the effort to hold Tehran leaders accountable for their right's violations on international platforms in recent years.
"[Iran] is among the world's worst violators of human rights; and it shelters and materially supports terrorist groups, requiring the government of Canada to formally list Iran as a state sponsor of terrorism under the Justice for Victims of Terrorism Act.
"Moreover, the Iranian regime has shown blatant disregard for the Vienna convention and its guarantee of protection for diplomatic personnel. Under the circumstances, Canada can no longer maintain a diplomatic presence in Iran. Our diplomats serve Canada as civilians, and their safety is our number one priority."
According to the statement, the Canadian embassy in Ankara, Turkey, will provide services to Canadians living in Iran in the absence of Tehran's mission.
The Canadian foreign ministry has upgraded its Iran travel advice, urging all its citizens not to travel to Iran.
"Canadians who have Iranian nationality are warned in particular that the Iranian regime does not recognise the principle of dual nationality," it said. "By doing so, Iran makes it virtually impossible for government of Canada officials to provide consular assistance to Iranian-Canadians in difficulty."
Anda baru saja membaca artikel yang berkategori News dengan judul Canada cuts diplomatic ties with Iran. Anda bisa bookmark halaman ini dengan URL http://portalsolo.blogspot.com/2012/09/canada-cuts-diplomatic-ties-with-iran.html. Terima kasih!
Ditulis oleh:
taufik hidayat
- Friday, September 7, 2012