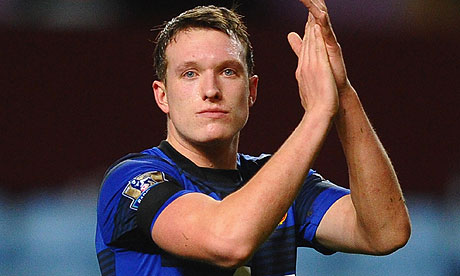 Phil Jones faces up to eight weeks on the sidelines with a knee injury. The Manchester United defender suffered the injury in training earlier this week and was sent for a scan which has confirmed he requires an extensive period of rehabilitation.
A statement from the club said: "Phil Jones has had surgery on a knee meniscus tear sustained in training that will require six to eight weeks' rehabilitation."
It is further bad news for the 20-year-old, who is yet to make an appearance this season. After an extensive break following Euro 2012, he suffered a back injury that prevented him playing any part in pre-season.
Jones missed United's opening three Premier League games and the start of England's World Cup qualifying campaign, but his return to training was supposed to be the prelude to his comeback. Instead, he is sidelined until November.
It means he will miss England's next two qualifiers against San Marino and Poland next month. More importantly for United though, he is ruled out of a succession of key league fixtures, including matches against Liverpool, Chelsea and Arsenal. In addition, he will miss at least their opening three Champions League group matches.
Anda baru saja membaca artikel yang berkategori sports dengan judul Manchester United's Phil Jones ruled out for up to eight weeks. Anda bisa bookmark halaman ini dengan URL http://portalsolo.blogspot.com/2012/09/manchester-united-phil-jones-ruled-out.html. Terima kasih!
Ditulis oleh:
taufik hidayat
- Saturday, September 8, 2012