Liberal Democrat leader apologises for making 'a promise we were not absolutely sure we could deliver'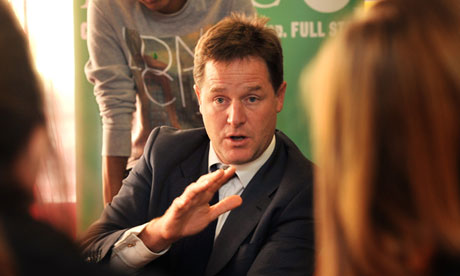 A near-abject Nick Clegg has given a complete apology for promising to oppose all rises in tuition fees at the last election, saying: "We made a pledge we did not stick to it and for that I am sorry."
The contrite admission of error – rare in a modern politician – was released on Wednesday and will come in the form of an election broadcast next week.
He adds: "There is no easy way to say this."
Clegg has made the deicision to confess his mistake in a bid to win back a hearing from a public that he feels, at least until recently, had tuned out from listening to him altogether due to their anger over the broken tuition fee pledge.
He says: "It was a pledge made with the best of intentions – but we should not have made a promise we were not absolutely sure we could deliver.
"I shouldn't have committed to a policy that was so expensive when there was no money around. Not least when the most likely way we would end up in government was in coalition with Labour or the Conservatives who were both committed to put fees up."
He vows: "I will never again make a pledge unless as a party we are absolutely clear about how we can keep it."
He continues: "I accept that wont be enough for everyone. But I owe it to you to be upfront about it. And I don't believe it should cast a shadow over everything else the Liberal Democrats are achieving in government. When we are wrong we hold our hands up. But when we are right we hold our heads up too."
He continues that if he has lost people's trust he will hope to win it back by fighting day in, day out to defend the vulnerable "in these tough times".
Clegg's aides said he had been wanting to make this full apology for a long time but has only sensed that in the past few months the electorate might be in a mood to listen.
He is aware that some of the electorate will take his apology as a sign of weakness or the act of a desperate man at a time when his personal poll ratings plumb new depths, but he believes there is a group of people that will listen.
Anda baru saja membaca artikel yang berkategori News dengan judul Nick Clegg apologises for tuition fees pledge. Anda bisa bookmark halaman ini dengan URL http://portalsolo.blogspot.com/2012/09/nick-clegg-apologises-for-tuition-fees.html. Terima kasih!
Ditulis oleh:
taufik hidayat
- Wednesday, September 19, 2012