Fiona Bone and Nicola Hughes caught in trap in Greater Manchester believed to have been set by fugitive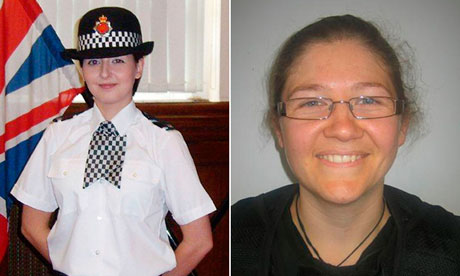 One of Britain's largest
police
forces has been plunged into deep shock and mourning after two "very brave and courageous" unarmed female officers were said to have been lured to an ambush where they were fatally injured in a gun and grenade attack.
Fiona Bone, 32, and Nicola Hughes, 23, were responding to a routine callout in Hattersley, Tameside, when they were caught in a trap believed to have been set by Dale Cregan, a fugitive wanted by police in connection with earlier suspected murders. The deaths are the first time two British female officers have been killed on duty.
As they arrived at a property in Abbey Gardens where a burglary had been reported, the officers came under fire from bullets and a grenade. The call was thought to have been made either by Cregan, 29, or someone acting on his behalf, said Sir Peter Fahy, the chief constable of Greater
Manchester
police.
"It would appear Cregan has deliberately done this in an act of cold-blooded murder," he told a press conference. The motive for the unprecedented attack was "impossible to fathom", he added.
Within an hour, Cregan – who had already been the focus of a huge manhunt – is believed to have walked into a nearby police station in Hyde. He was arrested on suspicion of the murders of Bone and Hughes, as well as those of David and Mark Short, who were killed in separate attacks earlier this year.
Tributes poured in for the two officers, who, against the backdrop of criticism relating to the Hillsborough disaster and the PC Simon Harwood case, were described by Fahy as "exemplifying the very best of British policing". Flags at the force's headquarters were flying at half mast.
Hughes, who had served three years in the force, was described by her colleagues as a "bubbly" karate fan who "couldn't do enough for people". Bone, who had been with the force for five years, was said by Fahy to be a "calm, gentle woman" and "excellent bobby" who had been about to get married.
Before she went out on patrol with her colleague, he said, she had spoken to her partner on the phone about wedding invitations.
"What we've got are two young girls who went out this morning and they've got an absolute right to come home tonight to their loved ones," said the chairman of the Greater Manchester Police Federation, Ian Hanson. "This is cold-blooded murder. It's the slaughter of the innocents."
Branding the attack an act of "pure evil", David Cameron said: "The cold-blooded murder of two female police officers doing their job out there protecting the public, another reminder of the incredible risks and great work our police service does. My thoughts and I think the thoughts of the whole country will be with their families at this impossibly difficult time."
The home secretary, Theresa May, said: "This is a deeply shocking incident and a terrible reminder of the risks that police officers face every day to keep our communities safe."
Cregan, of Droylsden, had been wanted by Greater Manchester police ever since 23-year-old Mark Short, an amateur boxer, was gunned down at a pub in May – and the search became even more urgent when, in August, David Short, Mark's father, was killed at his home in Clayton, Manchester. A reward of £50,000 was offered for information leading to Cregan's arrest.
Despite a huge search that had seen multiple arrests made and pictures of the one-eyed man distributed nationwide, however, police said they had had no intelligence linking him to the street or property.
Consequently, Bone and Hughes were dispatched unarmed, at about 11am, to the reported burglary, which had been called in an hour earlier. While cautioning that police were still piecing together how the exact chronology of events that had led to the tragedy, Fahy accused Cregan of having laid a deliberate trap.
He said: "We believe Dale Cregan was in a house in Abbey Gardens overnight and at some point this morning has either himself made a call or have someone else make a call reporting a burglary. This particular address was not known to us, was not in our intelligence systems, had not featured in this particular huge inquiry ... and so, as would be routine, two unarmed officers were sent to the scene. When they arrived it appears that Cregan then emerged into the road and killed these two officers. A firearm was used and a grenade was also used."
PC Bone was killed at the scene, police said. Her colleague died a short while later despite the efforts of an emergency team from Tameside hospital.
Officers who had been involved in the search for Cregan had been left "shattered" by the tragic way in which he had finally been apprehended, said the chief constable. Vowing to full investigate what he said had been "a criminal conspiracy" to harbour him, Fahy said the force was "absolutely determined" to bring those involved to justice.
In Hattersley, the area around Abbey Gardens was cordoned off and a bomb disposal unit reportedly seen nearby. Warren Shepherd, a window cleaner, said he heard the attack and saw the officers being taken into ambulances. "I just heard gun shots, bang, bang, bang – about 10 of them, then a pause and a big explosion," he said.
As a police helicopter hovered, Christopher Quinn, a near neighbour who heard the commotion from Ashworth Lane, said he heard what he would describe as "a boom-like sound under water". He said: "I just heard one bang and I didn't go out and look but my friend said something was happening in the area, so everyone went outside. Hattersley has a pretty bad reputation but we don't see anything bad on this side of the estate. I didn't know Dale Cregan was in the area – I don't even know what he looks like."
Quinn said he knew the man who lived in the house where Cregan is believed to have been staying. He described the neighbour, who lived on his own, as "just a normal lad, really sound".
There were some calls for police officers to be routinely armed. The officers were the second and third officers to have died after a firearms incident this year. PC Ian Dibell was killed in July by a single bullet wound to the chest after intervening in a dispute in Clacton-on-Sea, Essex.
Darren Rathband, the twin of PC David Rathband who was shot and blinded by Raoul Moat and found dead at his home earlier this year, said that equipping officers with only CS or pepper spray and Tasers "beggars belief".
However, opinion within the police service has historically shown itself to be opposed to the idea of routinely arming officers, with a 2006 a Police Federation survey of 47,000 officers finding 82% opposed it. Fahy argued that officers could not be sent armed to "hundreds" of routine callouts.
"We are passionate that the British style of policing is routinely unarmed policing. We know from the experience in America and other countries, that having armed officers certainly does not mean, sadly, that police officers do not end up getting shot."
Anda baru saja membaca artikel yang berkategori News dengan judul Police officers 'lured to their deaths' in gun and grenade attack. Anda bisa bookmark halaman ini dengan URL http://portalsolo.blogspot.com/2012/09/police-officers-to-their-deaths-in-gun.html. Terima kasih!
Ditulis oleh:
taufik hidayat
- Tuesday, September 18, 2012