Sentences to range between 15-20 years for officers as civilian government flexes muscles against once-supreme army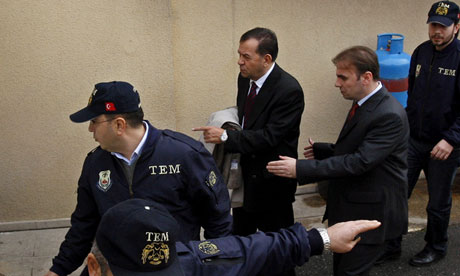 A Turkish court has convicted 330 former and current military officers of plotting a coup to overthrow prime minister Tayyip Erdogan's government.
The court earlier sentenced three former generals to life in prison, which was reduced to 20 years each because the coup plot was unsuccessful, and two serving and one former general to 18 years.
Sentencing is still to come for the remaining 324 defendants convicted of a role in the plot.
The court earlier acquitted 34 officers in the case, which has underlined civilian dominance over the once all-powerful military in Turkey.
The "Sledgehammer" conspiracy is alleged to have included plans to bomb historic mosques in Istanbul and trigger conflict with Greece to pave the way for an army takeover.
Prosecutors had demanded 15-20 year jail sentences for the 365 defendants, 364 of them serving and retired officers.
The Turkish army has traditionally played a dominant role in politics, staging three coups between 1960 and 1980 and pushing the country's first Islamist-led government from office in 1997.
Its authority has been reined in sharply since Erdogan first came to power nearly a decade ago and the trial has been seen as a show of strength by a government that has emerged from its shadow.
Anda baru saja membaca artikel yang berkategori News dengan judul Turkish court finds 330 military staff guilty of attempted coup. Anda bisa bookmark halaman ini dengan URL http://portalsolo.blogspot.com/2012/09/turkish-court-finds-330-military-staff.html. Terima kasih!
Ditulis oleh:
taufik hidayat
- Friday, September 21, 2012