Tribunal hears that Home Office ministers asked Jordanian counterparts if cleric could be pardoned in deportation bid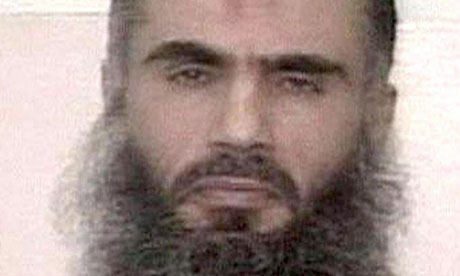 Home Office ministers sought a pardon for Jordanian terror suspect Abu Qatada in a bid to deport him from the UK, a tribunal has heard.
James Brokenshire, the then security minister, asked Jordanian ministers in February if the radical cleric, once described by a judge as Osama bin Laden's right-hand man in Europe, could be pardoned if returned.
Even when Brokenshire was told this was not possible, the government had a "plan B" to find out when the Jordanian king could issue such a pardon, the special immigration appeals commission (Siac) in central London heard.
Anthony Layden, the former British ambassador to Libya who specialises in negotiating diplomatic assurances, revealed details of the talks which took place at a meeting in Jordan on 14 February.
Under cross-examination by Edward Fitzgerald QC, for Abu Qatada, Layden agreed that the possibility of a pardon for the cleric was explored.
"I think the question of a pardon had been asked earlier and Mr Brokenshire was asking for an answer," Layden said.
The pardon was being sought because the evidence against Abu Qatada was "granted by torture", Layden agreed.
The Siac is hearing Abu Qatada's appeal against deportation after Europe's human rights judges ruled the 51-year-old could not be deported while there was a "real risk that evidence obtained by torture will be used against him".
Layden also said simple assurances from the Jordanian government that evidence gained by torture would not be used were never going to be enough to deport him as it was a matter for the prosecutors and the courts, not the government.
The UK government also asked Jordanian prosecutors if they would give "an undertaking in advance that they would not rely on the statements" gained through torture, but the Jordanians refused, Layden agreed.
An attempt to get Jordan's state security court to rule on the admissibility of the statements before Qatada was deported had also been rejected, he added.
Anda baru saja membaca artikel yang berkategori News dengan judul Abu Qatada: ministers sought Jordanian pardon. Anda bisa bookmark halaman ini dengan URL http://portalsolo.blogspot.com/2012/10/abu-qatada-ministers-sought-jordanian.html. Terima kasih!
Ditulis oleh:
taufik hidayat
- Thursday, October 11, 2012