• Midfielder's new deal worth £120,000 a week plus bonuses
• Spaniard delighted to have committed future to champions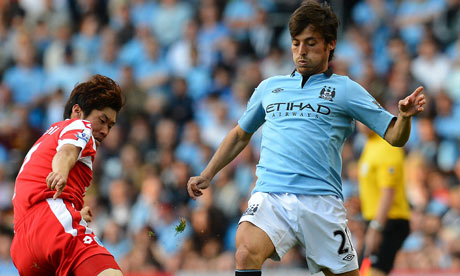 David Silva has pledged his long-term future to Manchester City by agreeing a new five-year contract worth £120,000 a week plus performance-related bonuses.
The Spaniard, whose new deal will run out in 2017, has followed in the footsteps of Joe Hart and Vincent Kompany by signing a new contract at City.
"I'm very pleased because I've been here for two years now and I feel very happy here at the club, in the city and with all the people," said Silva. "So now I'm delighted to be extending my contract and being here really does feel just like home for me.
"We've won the Premier League title and two other trophies too, and the team is growing and we are now aiming at the Champions League and so that also is another reason to want to stay here and try and win it. As I said, I feel very comfortable here and I want to try and win trophies like those.
"These last two years have gone very well and so let's hope that the next five go as well or even better. The fans have always given me their support since I arrived here, and recently they've been wanting me to sign, so hopefully this goes someway to thanking them for the affection they've shown towards me, something which also helped me decide to put pen to paper."
Anda baru saja membaca artikel yang berkategori sports dengan judul David Silva signs new five-year contract at Manchester City. Anda bisa bookmark halaman ini dengan URL http://portalsolo.blogspot.com/2012/09/david-silva-signs-new-five-year.html. Terima kasih!
Ditulis oleh:
taufik hidayat
- Monday, September 17, 2012