Sheikh Hassan Nasrallah makes rare public appearance to support protests that are continuing from Tunisia to Indonesia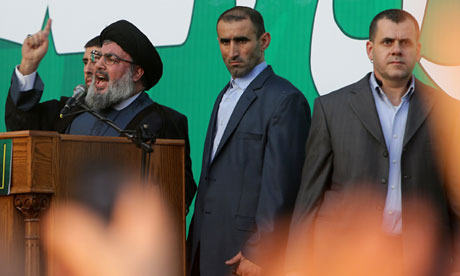 Sheikh Hassan Nasrallah, the leader of Lebanon's powerful Hezbollahmovement, has called for new demonstrations to express outrage at a film that denigrates Islam and the prophet Muhammad, as unrest triggered by it continues from Tunisia to Indonesia.
"Prophet of God, we offer ourselves, our blood and our kin for the sake of your dignity and honour," Nasrallah told supporters who chanted "death to Israel" and "death to America" at a rally in the southern Shia suburbs of Beirut. "The US should understand that if it broadcasts the film in full it will face very dangerous repercussions around the world."
Nasrallah, who fears assassination by Israel, appears in public only rarely. Political opponents suggested that anger over the film, Innocence of Muslims, was a useful diversion from the bloody crisis in neighbouring Syria, where the Assad government, along with Iran, is a patron of the Lebanese militant group.
In Tunis, police surrounded a mosque where a Salafi leader was meeting followers. Sheikh Saif-Allah Benhassine is wanted by police over clashes at the US embassy last week, but he managed to slip past the cordon and escape.
President Barack Obama called US diplomatic staff in Sudan, Tunisia,
Libya
and Yemen at the weekend, to reassure them that their security is a top priority for the US government.
Reflecting nervousness about the protests in the region, the US embassy in Beirut has started to destroy classified material as a security precaution, the Associated Press reported.
In Benghazi, Libya's second city, the Islamist brigade suspected of involvement in the death of US ambassador Chris Stevens last week said that America was to blame for allowing the release of the film.
"We categorically deny we were there," said Youssef el-Gehani, spokesman of the Ansar al-Sharia brigade. "American policies target some of the most sacred elements of our religion so you should expect a reaction," he told the Guardian. "The embassy [US consulate] knew how sensitive it was to have that film, they should have evacuated the embassy."
At the weekend, Libya's de facto head of state, Mohamed al-Magariaf, said Ansar al-Sharia members were involved in the night-long assault that left four US consulate staff dead. He linked the group to al-Qaida in the Islamic Maghreb.
Gehani warned that the US would continue to face attacks in Muslim countries. "If America wants respect in the Arab world, it should avoid spilling blood in places such as Syria and Afghanistan, and avoid insulting the prophet."
His comments came amid chaos within Libya's government, with the deputy interior minister, Wanis al-Sharif, being sacked after claiming that 50 suspects had been arrested in connection with the attack on the anniversary of 9/11. The interior minister, Fawzi Abdul Al, insisted only four arrests had been made.
On Sunday a video was released showing Stevens was still alive when he was found after the attack. A Libyan witness told the Associated Press that Stevens was still breathing, though his face was blackened and he seemed paralysed.
In Pakistan, the prime minister, Raja Pervaiz Ashraf, ordered the suspension of YouTube over the "blasphemous" Muhammad film. Two protesters were killed as police used teargas and fired into the air to control crowds which have grown since last week. Thousands of people shouting anti-American slogans took to the streets in Peshawar, Lahore, and, for a second day, in Karachi.
Violent rage also spread to Kabul in Afghanistan, with hundreds of people taking to the streets, burning tyres and a car, and attacking police and a US base with stones.
Indonesian police fired teargas and water cannon to disperse hundreds of demonstrators who massed outside the US embassy in Jakarta, the capital of the world's most populous Muslim country.
Iran's supreme leader, Ayatollah Ali Khamenei, was quoted on state TV as saying that western leaders must prove they were not "accomplices" in a "big crime".
In Egypt, two prominent figures are facing legal action over broadcasting a clip of the film. Khaled Abdallah, an ultra-conservative television anchor, and Nader Bakkar, spokesman of the Salafi al-Nour party, stand accused of instigating violence that led to the storming of the US embassy in Cairo.
Tony Blair, meanwhile, told the BBC that the offending film was "wrong and offensive but also laughable as a piece of film-making". He added: "What is dangerous and wrong is the reaction to it."
The family of Nakoula Basseley Nakoula left their California home in the middle of the night on Monday and have been taken to an undisclosed location, a Los Angeles police spokesman said.
Nakoula has been identified by US federal authorities as the key figure behind Innocence of Muslims.
Anda baru saja membaca artikel yang berkategori News dengan judul Hezbollah leader warns US of repercussions over anti-Islam film. Anda bisa bookmark halaman ini dengan URL http://portalsolo.blogspot.com/2012/09/hezbollah-leader-warns-us-of.html. Terima kasih!
Ditulis oleh:
taufik hidayat
- Monday, September 17, 2012