Man and woman held on suspicion of committing, preparing or instigating terrorist acts related to Syria, police say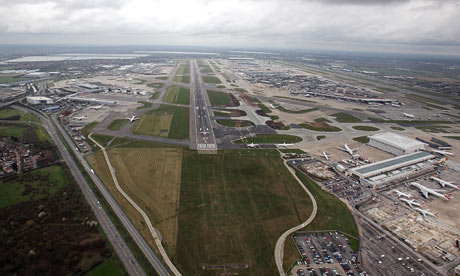 Two people have been arrested at Heathrow airport on suspicion of terrorism offences related to Syria.
A man and a woman were held at 8.30pm on Tuesday after arriving on a flight into the airport from Egypt, the Metropolitan police said.

The pair, both aged 26, were arrested by officers from the counter-terrorism command on suspicion of the commission, preparation or instigation of acts of terrorism.
They were taken to a central London police station where they were being held in custody.
Scotland Yard said in a statement released early Wednesday that the pair had flown into the airport from Egypt.
Police did not make clear whether the suspects were thought to be returning from or heading to Syria. The statement said that officers were searching two homes in east London under the Terrorism Act as part of the investigation.
The statement added that the pair were arrested on suspicion of the "commission, preparation or instigation of acts of terrorism" but did not release their names, nationalities, or any other identifying information.
The arrests were part of an investigation into travel to Syria in support of alleged terrorist activity, police said.
Anda baru saja membaca artikel yang berkategori News dengan judul Two arrested at Heathrow on suspicion of terror offences. Anda bisa bookmark halaman ini dengan URL http://portalsolo.blogspot.com/2012/10/two-arrested-at-heathrow-on-suspicion.html. Terima kasih!
Ditulis oleh:
taufik hidayat
- Tuesday, October 9, 2012